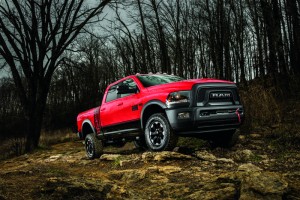 Fact. The Ram Brand offers the capability required by just about any profession. From landscapers to real estate agents, construction workers to florists, small-business owners of all types will find their perfect vehicle match in the Ram 1500 EcoDiesel, the Ram 5500 Chassis Cab, the Ram ProMaster City®, or one of the other hardworking vehicles in the Ram lineup.
Now, with the introduction of the new 2017 Ram Power Wagon®, entrepreneurs in even the most extreme professions have a work truck to call their own, one with unmatched off-road capability and a new, fearless attitude to complement its 6.4-liter HEMI® V8 engine, 410 horsepower and 429 pound-feet of torque.
From hunting and fishing guides to loggers to professional outdoor adventurers – if the way you make your living takes you up mountains, off-road and far from civilization, then this is the truck for you.
Please enjoy the short video below, and then be sure to visit the official Ram Trucks blog for a closer look at this exciting new vehicle. The new 2017 Ram Power Wagon will begin arriving in BusinessLink dealerships in the fall of 2016.