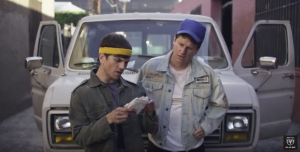 Work vehicles are serious business, unless you're one of the hapless "professionals" featured in the new This Old Van video series from the Ram Brand, that is.
In the videos below, a couple of inept delivery guys and a bungling cable installer bring into sharp focus the dangers of picking the wrong work van from which to run a business. And while it's doubtful a new Ram ProMaster® or Ram ProMaster City® would spell instant success for these three in particular, it's a safe bet that for most people – i.e., anyone else in the world – a new cargo van from the Ram Brand would prove just the thing to really get a business rolling.
This Old Van // Endless Turn
Description: Delivering packages is tough sledding for the guys at Molasses Delivery, and their old van doesn't make it any easier. In this episode of This Old Van, the daily struggle of U-turns and zero team chemistry reaches its tipping point.
This Old Van // The Bundle
Description: Keeping up with the high-speed world of Internet and cable gets much harder when your old van has a massive nest of wires. In this episode of This Old Van, Ricky discovers that not everyone has the patience for his disorganized business.
Stay tuned to the FCA Work Vehicles US blog for more This Old Van videos. In coming months we'll be posting additional videos from the series. In the meantime, head over to your local BusinessLink dealer to test-drive a new Ram ProMaster or Ram ProMaster City today.