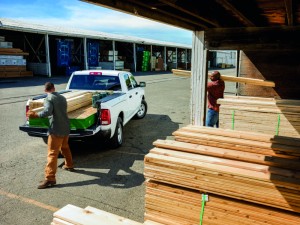 The following post first appeared on the RamZone blog earlier this year. It appears here courtesy of our partners at Ram Trucks.
Truck shopping can be intimidating, especially for first-time buyers. There are many truck specifications that address your specific needs, but often the whole thing can be boiled down to one essential question: What Ram Truck will best suit your needs?
To help answer this question, first we need to dispel some misinformation. Conventional, standard-duty pickups like the Ram 1500 are traditionally called "half-ton" trucks, but that's an obsolete way of talking about truck capabilities. In fact, the Ram 1500's hauling and towing capacities are far beyond a half-ton. For example, a basic Ram 1500 Tradesman has a maximum payload of 1,880 lbs.* (nearly a ton) and a maximum towing capacity of up to 10,640 lbs.* – which are more than sufficient for what you'll need to get the job done.
Similar old truck designations such as "three-quarter-ton" and "one-ton" are equally misleading. HD trucks like the Ram 2500 and 3500 have far greater capabilities than these terms suggest. For example, the Ram Tradesman 2500 has a max payload of 3,990 lbs.* and a max towing capacity of 17,980 lbs.* So if you're pulling a large boat or, say, a heavy-duty construction trailer, the 2500 may be great fit for your needs.
Another important difference between the Ram 1500 and 2500 is in their available engine and drivetrain packages. The Ram 1500 is offered with a choice of 3.6-liter Pentastar® V6, 5.7-liter HEMI® V8 and 3.0-liter EcoDiesel V6 engines, which offer a good balance of performance and economy for typical light commercial and consumer use. In contrast, engine choices in the HD Ram 2500 include the 5.7-liter HEMI® V8 VVT, 6.4-liter HEMI® V8 and 6.7-liter Cummins® Turbo Diesel, packages designed to tow and haul heavier loads and deliver long-term dependability.
Summing up: A solid understanding of the weights you will be hauling and pulling is the key to selecting the right Ram truck for your needs. And if you have questions, you can simply consult the towing guide at RamTrucks.com or visit with the truck experts at your local BusinessLink dealer.
Thanks again to Ram Trucks for letting us repost this article. No doubt regular readers of this blog will enjoy their blog as well – check out RamZone today!
*When properly equipped. See dealer for details.