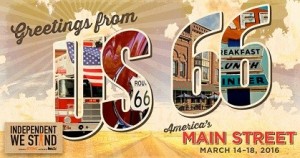 To help raise awareness for the America's Main Street Contest, shop-local advocate (and our partner) Independent We Stand hit the road recently for a 6-state, 12-city, 1,400-mile road trip on one of the country's most iconic highways – the legendary Route 66.
Their seventh road trip in as many years, the Independent We Stand team picked up where they left off last time, interviewing small-business owners and main-street activists along the route, all while soaking in the local sights, sounds and shopping offered in each community.
Thanks to their trusty and efficient Ram ProMaster City®, the team made the trip on schedule and on budget, stopping often to check out roadside attractions and other points of interest, the highlights of which you can see below.
For a complete recap of their trip, read this article on the Independent We Stand blog. To vote for your favorite Main Street among the finalists, visit the America's Main Street Contest website located here.
A stop in Amarillo, Texas
The Ram ProMaster City® – Ready for its close-up
Making new friends along the way
Cruising through town
The trusty and efficient Ram ProMaster City®
Throwback to the glory years of Route 66
Navigation is a breeze with available Uconnect® 5.0 NAV
End of the road
Life's a beach with the Ram ProMaster City®
FCA US LLC and Ram Commercial are proud to Join STIHL USA as founding sponsors of the annual Independent We Stand road trip. Stay tuned to our blog for continuing coverage of more events like this one.