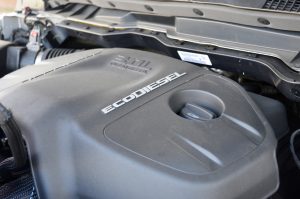 Welcome to the FCA Work Vehicles Glossary, an ongoing blog series in which we define common (and not so common) vehicle terms so that average buyers can make more informed decisions when purchasing new vehicles for work. Today's entry is the 3.0L EcoDiesel V6 engine.
What is it?
The 3.0L EcoDiesel V6 engine is one of the newest engines in the FCA lineup and, as of this writing, the only diesel engine available for light-duty pickup trucks. An option for the Ram 1500 or Jeep® Grand Cherokee, the engine realizes 240 horsepower while laying out an impressive 420 lb-ft of torque, all while being relatively efficient in terms of fuel consumption.
Why it matters?
The 3.0L EcoDiesel V6 engine is a welcome addition in a market where many consumers are both economically responsible and environmentally aware. Though it's no slouch in terms of capability (see above torque rating), the engine helps certain Ram and Jeep vehicles outshine the competition specifically in the area of fuel consumption. The Ram 1500 HFE EcoDiesel, for example, is far and away the most fuel-efficient light-duty pickup truck on the market, achieving an EPA-estimated 21 mpg in the city and 29 mpg on the highway*. Simply put, a higher mpg means less fuel burned, which is better for the environment and easier on your wallet.
Visit your local BusinessLink dealer for more information on Ram and Jeep vehicles equipped with the efficient and capable 3.0L EcoDiesel V6 engine.
*Based on the Standard Pickup Segment. EPA-estimated 21 city / 29 highway mpg with 3.0L EcoDiesel V6 engine and eight-speed automatic transmission, 4×2 HFE model. Actual mileage may vary.