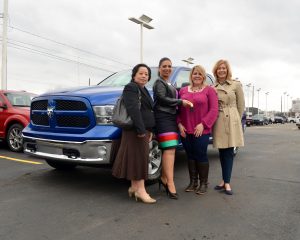 Genevieve Vang is in business for all the right reasons. Forced to flee Laos as a refugee in 1975, she came to the U.S. by way of France in 1980 hoping to find steady work and a better life. With no experience running a restaurant, she opened Bangkok Tiger in 1989 – the first Thai restaurant in Wayne County, Michigan. In 1996 she opened a second restaurant called Bangkok 96, which is still in operation today.
Twenty years later and despite having two more businesses to keep her busy – a retail operation and a food production company – Genevieve is in a place now to leverage her success into help for other people. A member of the National Association of Women Business Owners (NAWBO), the entrepreneur recently purchased $1,000 worth of raffle tickets from a Greater Detroit Chapter of NAWBO fundraiser to distribute among people in her life she believed were the most deserving. As luck would have it, one of the tickets she purchased proved to be the winner. The prize for the ticket holder: A new Ram 1500.
Inspired by her story, we sat down with Genevieve to learn more about her approach to business and why she believes NAWBO is an organization worthy of her time and energy, both of which are at a premium with three businesses to run.
Thanks for taking the time to speak with us today, Genevieve. Tell us, why the restaurant business?
I studied fashion in France and trained as a CPA among other things, but I couldn't find enough work to make a living. So in 1980 we came to the United States and in 1989 we opened the restaurant. I didn't have any experience at first but I loved to cook, having learned when I was young from monks at the temple. When we first came here, I found a job as a waitress but didn't speak English very well. But over time I began to understand the business, and then we opened one of our own.
To what do you attribute your success? Plain old hard work? A smart business plan? Support from employees, family and/or friends?
I was the cook in our restaurant for 20 years, seven days a week. We were struggling and didn't have much choice about working that many hours. Sometimes it's not a matter of yes or no, or even success or failure – it's a matter of do or die. You have to figure things out and do the best you can. There's just no other choice. I think you also have to have a goal or a dream to keep you going. For me, I really like to help my family.
At what point did you finally think to yourself, "I made it"?
Oh, I never think that. I'm still working. I'm always asking myself, what can I do better? How can I offer better service? I hope one day we will get there.
Why is membership in NAWBO important for women business owners like you?
I joined NAWBO because it's a women's organization and I feel comfortable in that environment. For me, NAWBO offers two things. The first is other women. The second is entrepreneurs. It feels like I have sisters who also know business.
Tell us about the NAWBO giveaway. What were you hoping to accomplish by giving away what was ultimately the winning raffle ticket?
Well, I was trying to help NAWBO. I was buying tickets for the organization's benefit. It was a fundraiser after all. But then I saw the truck and I hoped that my chef or another employee would win it. They all work so hard and deserve so much. The people I gave tickets to were all deserving of a truck for one reason or another, whether it was an employee, friend or customer.
What advice would you give to someone just starting out in business?
Everything you do you have to make sure you do professionally. You have to make sure each and every customer has the best experience possible. If you're an entrepreneur, you have to have the drive. If you have to mop the floor, then you mop. You can't be shy – it's your business. You have to take care of it.
FCA Work Vehicles US would like to thank Genevieve for sharing some of her business insights. We'd also like to remind everyone that NAWBO members – along with members of these other associations — are eligible for a $500 cash allowance toward the purchase or lease of select Chrysler, Dodge, Jeep®, Ram and FIAT® brand vehicles. Visit the member benefits page on your association's website or stop by a BusinessLink dealership for more information.
*Photo: Genevieve (left) with NAWBO representatives and the winner of the new 2016 Ram 1500.