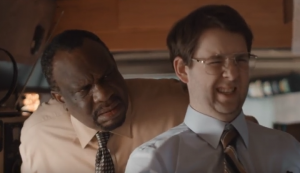 Welcome to the second edition of the Ram Brand's video series, This Old Van, a lighthearted look at how a person's work vehicle can sometimes reflect their inner professional, and not always for the best.
Similar to the first videos in the series, the two below feature bungling "professionals" who might be a little less so if only they knew to trade in their old vans for the much more capable Ram ProMaster® or Ram ProMaster City® … Okay, to be honest, there's probably no helping this bunch. But for more competent business people (read: just about everyone else), a new cargo van from the Ram Brand could be just the thing to help a new company take off or an established business reach new heights.
This Old Van | Icing on the Cake
Description: Baking cakes is one thing, fitting them through the rusty old doors of your van is an entirely different recipe. In this episode of This Old Van, Trish and Marg find that making it to the wedding in one piece is quite the challenge.
This Old Van | The Stakeout
Description: Solving cases requires patience and high-tech gear, both of which these two clumsy private investigators don't have. In this episode of This Old Van, the tight confines of their surveillance van cause them to blow their cover.
Stay tuned to the FCA Work Vehicles US blog for more This Old Van videos. In coming months we'll be posting additional videos from the series. In the meantime, head over to your local BusinessLink dealer to test-drive a new Ram ProMaster or Ram ProMaster City today.