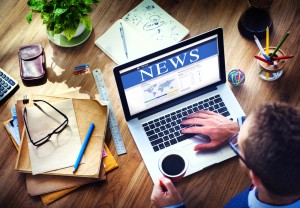 Here at FCA Work Vehicles US, we understand that entrepreneurial success comes, in part, from staying on top of developments in the world of small business. We also understand that in any given month there is just too much good information to discover on your own.
With that in mind, we're pleased to bring you the June edition of Small Business in the News, a monthly series in which we share a few of the noteworthy articles we've come across in our own attempt to stay "in the know." Please enjoy.
With more than 280,000 votes cast nationwide, the inaugural America's Main Streets contest was by all accounts a resounding success. Best of all, the contest brought much-deserved attention a number of well-meaning downtown development authorities and Main Street associations from across the country. But as is the case in any contest, there can be only one winner. This year the winner is Lynden, Washington, picked as much for their resilience in the face of hardship as their small-town hospitality and charm. Read more about the winner in this blog post from our partners at Independent We Stand.
It goes without saying that a competent sales team can have a profoundly positive impact on a company's overall success. What's less obvious is how to get underachieving sales teams to outperform the competition and even their own expectations. This article from the blog of the National Association of Home Builders (NAHB) examines just that issue, turning to sales-professional training expert Jason Forrest for advice. According to the expert, if change is to happen, it starts with the sales team and extends through to the organization's leadership. Read the full article to see what changes in thought and attitude Forrest recommends specifically.
More than just a way for employees to get fit and stay in shape, a wellness program can be of real value to a business, particularly when it comes to boosting employee morale and fostering the spirit of teamwork in the office. Such is the argument made in this story from Entrepreneur. Author Henry Albrecht contends that group goals and health challenges give employees something to rally around. Furthermore, the extra attention paid to employee wellness shows workers that leadership is invested in their total wellbeing, not just their productivity or potential to make money. This in turn can lead to a more positive, productive workplace. In short, it's a win-win for all.
Have you recently come across any small-business news worthy of sharing? If so, let us know about it in the comments section below!