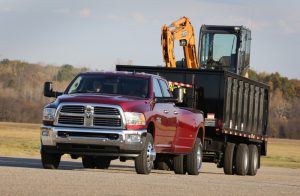 The post below originally appeared on Ram Zone, the official blog of Ram Trucks. Although geared toward the towing of recreational vehicles and camping trailers, it's easy to see how these tips and tricks could be just as relevant to small-business owners who tow for work, especially those who are new to towing and/or tow infrequently. Please enjoy.
Spring is well underway, which means you and your Ram truck will be heading out for some warm-weather adventures. For many Ram truck owners, that most likely includes boats, motorcycles and campers tagging along – and with our towing capabilities, you won't have to think twice.
Towing can be a bit intimidating, especially if you're a first-time truck owner. If you do your homework regarding proper equipment and practices, the process soon becomes almost second nature. Meanwhile, here are a few simple tricks to help make the trip safer and more enjoyable.
Check Around: Just before you head out, always check the tire inflation pressure all the way around on both the tow vehicle and trailer. Don't underestimate how a small amount of over- or under-inflation can make a big difference in the handling properties of the rig.
Maintain: If a wind gust from an overtaking semi or other vehicle causes your rig to sway or swerve, don't stab the brakes. Cleanly move your foot off the throttle, firm up your grip on the steering wheel, and give the rig a moment or two to stabilize.
 
Go With the Flow: When backing up, relocate your hands on the steering wheel from the usual ten and two o'clock positions to five and seven.  This makes reverse-maneuvering the trailer much more natural and intuitive.
When it comes to the Ram 1500, don't let the term "light duty" fool you. The Ram 1500 has a maximum payload of 1,890 lbs, and a maximum towing capacity of 10,640 lbs. If you'll be towing boats, ATVs or trailers, this is the truck for you.
The Ram Brand's heavy-duty trucks are well suited for towing construction equipment and other heavy commercial loads as well as large boats and 5th-wheel trailers. With a maximum payload of 7,390 lbs. and a maximum towing capacity of 31,210 lbs., your heavy-duty needs will be taken care of.
When it comes to towing your toys (or tools), we know that capability is key. Whether you're towing 5 tons or 15, there's a Ram truck that will meet your needs and then some.
Learn more about Ram Trucks' towing power here: http://www.ramtrucks.com/en/towing_guide/
Thanks again to Ram Trucks for letting us repost this article. Be sure to bookmark Ram Zone blog for more great content like this.