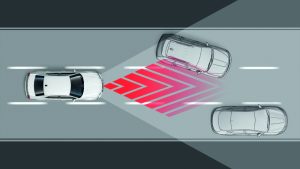 For many small-business owners, shopping for a new work vehicle begins by creating a list of wants and needs. You may need a heavy-duty pickup truck to expand your landscaping business. You may want it in forest green to match the branding of the company. While capability, efficiency and even a particular paint color will be high on the list of must-haves, there is nothing more important than safety – your safety and security, and that of your employees.
Fortunately, the auto industry as a whole has been hard at work developing innovative safety features that, until recently, were not just unavailable, but even unimaginable. From hands-free, voice-activated communication methods to automatic emergency braking, many new vehicles are equipped with powerful technology designed to help keep travel incident-free, or to mitigate the damage should a collision occur.
But not all of today's available safety and security features come standard in every new car, truck and cargo van. With that in mind, here are some things to look for when selecting your next work vehicle.
Hands-Free Technology
The proliferation of smart phones and in-vehicle WiFi has made it easier than ever for people, especially business people, to stay connected while away from the home or office. That connectivity comes at a price, however. The temptation to check and respond to email or text messages while driving can have serious consequences if the driver takes their eyes off the road.
To lessen the temptation, automakers have been equipping select vehicles with hands-free technology that lets drivers stay connected without losing focus on what matters most – driving. When paired to a smartphone via Bluetooth®, the vehicle's connectivity system (when properly equipped) can read incoming texts and even transcribe via voice and send responses. The same hands-free technology is at play in the navigation system (again, when equipped), allowing drivers to input addresses or search for the nearest gas station by voice command alone.
Consult the salespeople at your local dealership to find out what kind of hands-free technology is now available in your favorite work vehicles.
Crash-Avoidance Technology and Back-Up Cameras
It can happen to anyone – the mind wanders momentarily and the vehicle follows suit, meandering off course and into the next lane over, hopefully without consequence. To help keep you on course, automakers today are implementing technology that senses lane departures and gives a warning or may actively help the driver get back into their lane.
Not limited to lane departure, many new cars and trucks are equipped with sensors that can detect and help prevent potential forward collisions. In addition to sounding an alarm when in harm's way, the vehicle may apply its brakes automatically, even bringing the vehicle to a full stop if the driver doesn't react quickly enough.
To help drivers while backing up, a significant percentage of today's vehicles come with back-up cameras. Some vehicles even help the driver maneuver while reversing with on-screen grid lines that bend to the right or left according to the steering wheel's position.
Though each automaker offers slightly different versions of crash-avoidance technology, or calls it by a different name, all versions have the same intent: to help the driver arrive safely at their destination. Ask the salesperson at your preferred dealership which vehicles have the most-advanced crash prevention and warning systems available.