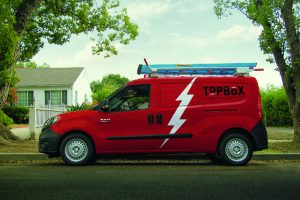 Welcome to the FCA Work Vehicles Glossary, an ongoing blog series in which we define common (and not so common) vehicle terms so that average buyers can make more informed decisions when purchasing new vehicles for work. Today's entry is On The Job incentives.
What is it?
On The Job incentives are a series of allowances offered by FCA US LLC to entice prospective buyers (specifically, small-business owners) into purchasing Chrysler, Dodge, Jeep®, Ram and FIAT® brand work vehicles. Designed with small business in mind, the incentives make it easier and more affordable to upfit, upkeep and/or advertise on your car, truck or cargo van. Here's a short video with a more in-depth explanation.
Why it matters?
Purchasing a new vehicle is one of the most significant expenditures a business can make. FCA US LLC understands that and is aware that when you run a small business (or a large business, for that matter), every penny counts. While these incentives are designed to make the idea of acquiring an FCA US vehicle even more attractive to prospective buyers, the real value is that they help offset certain upfront business costs that are otherwise unavoidable – the cost of adding vehicle graphics or having shelves installed in a cargo van, for instance.
View the complete list of On The Job incentives by visiting our website or stopping by in person to your nearest BusinessLink dealer.