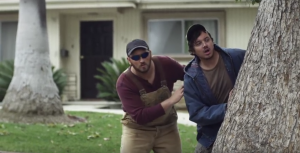 Welcome to the third edition of the Ram Brand's lighthearted video series, This Old Van. Today's edition involves more of the same bungling "professionalism" that made the first two editions (this one and this one) so entertaining.
To summarize, in each video below a pair of incompetent "pros" is rendered even more inept by an outdated work van. Each duo's ineptitude is brought further into focus when compared to the much more capable Ram ProMaster City®, not to mention the actual professionals who drive them. What's clear in the end is that success, while never guaranteed, is a much safer bet when you have at your disposal the right tools for job – in this case, the built-for-work cargo vans of the Ram Trucks Brand.
This Old Van | The Overload
Description: Finding valued antiques becomes less rewarding when you can't find any room to bring them home. In this episode of This Old Van, the Awesome Possum Antiques duo has a less than awesome time giving away most of their things.
This Old Van | Out of Control
Description: Removing creatures, critters, and sometimes bears is dangerous when your van has poor fuel economy. In this episode of This Old Van, running on an empty tank leaves Merl and Earl running for their lives.
Stay tuned to the FCA Work Vehicles US blog for more entertaining and informative videos. In the meantime, head over to your local BusinessLink dealer to test-drive a new Ram ProMaster® or Ram ProMaster City today.