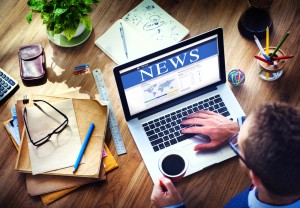 Here at FCA Work Vehicles US, we understand that entrepreneurial success comes, in part, from staying on top of developments in the world of small business. We also understand that in any given month there is just too much good information to discover on your own.
With that in mind, we're pleased to bring you the August edition of Small Business in the News, a monthly series in which we share a few of the noteworthy articles we've come across in our own attempt to stay "in the know." Please enjoy.
Mobile optimization a must-have for small businesses
If you're currently rethinking your digital strategy, a "mobile-first" mindset might be the way to go. If you're not currently rethinking your strategy, now might be a good time to start. That's the takeaway from this article in Small Biz Trends, which cites a number of eye-opening statistics to reveal just how often consumers are searching for goods and services from their smartphones. In several industries, including retail, mobile accounts for a slight majority of search traffic to websites. In some industries, food and beverage for example, mobile searches account for a significant majority of the traffic. Read the full article to find out just how significant.
The negative side of positive reviews
Think that positive online reviews are always a good thing? Think again. According to this article in Business News Daily, excessive positive reviews of a particular product seem to increase the likelihood that it will be returned. Research suggests that too much positivity surrounding a product sets expectations too high, leading to customer dissatisfaction and more returns. To combat the phenomenon, retailers should try to set reasonable expectations by encouraging not just the most satisfied customers to leave reviews, but all customers, even if their opinions or experiences are negative.
Build brand loyalty to remain sustainable
In a rapidly changing marketing landscape for small businesses (actually, all businesses), companies that create authentic connections with their customers are proving more sustainable than rivals who focus on single-transaction relationships. So says this article from Inc., which also suggests that brands must "find ways to speak to consumers with ever more personalized messages" if they want to be successful. While "more personalized" messaging might necessarily mean reaching fewer people, careful targeting practices can help ensure you reach the right people, i.e., those you can easily make into loyal customers.
Have you recently come across any small-business news worthy of sharing? If so, let us know about it in the comments section below!