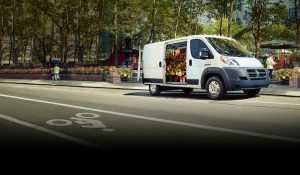 Here at FCA Work Vehicles US, we do our best to stay connected to our partners, from the Society of American Florists to the National Association of Women Business Owners to the Dairy Farmers of America and every trade association between.
Most often "staying connected" means keeping a close eye on websites and social channels, watching for updates, blog posts and any other compelling content our partners create. In turn, we make it a point to share relevant news from FCA US LLC whenever it makes sense.
As much as we enjoy engaging with our partners in a virtual environment, nothing beats seeing everyone in person, from an association's leadership to its individual members. That's why each year we attend as many events as we can. After all, what better way to get real, useful feedback on our vehicles than talking face-to-face with the people who drive them everyday?
With that in mind, here are the upcoming association events FCA US will be attending in September. If you're planning on attending as well, stop by our booth to check out our vehicles, learn about incentives and get answers to any questions you may have.
The National Women's Business Conference (September 18 – 20) offers exciting opportunities to women business owners for networking, training and education. It's also a great time to share stories and best practices, and to discover products and services that might benefit your business. If you're going, visit us at Booth #103 for an up-close look at some exciting vehicles from FCA US LLC (like the spacious, stylish and all-new Chrysler Pacifica). In the meantime, enjoy this short video from last year's conference in San Antonio.
The 132nd Annual Convention for the Society of American Florists is September 21 – 24 in Maui, Hawaii. As if the island location isn't reason enough to attend, attendees can look forward to an event calendar featuring more than 20 educational programs. Refresh your thinking, renew your creative and reenergize your business at this exciting event.
Have an event you'd like to share with our readers? Let us know! Share the information in the comments section below.