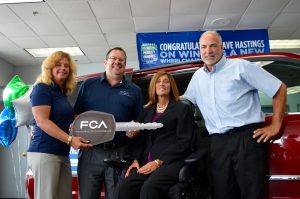 Watching small businesses succeed thanks in some small part to the capability of our vehicles is one of the more rewarding parts of the job here at FCA US LLC. Perhaps the most rewarding part of the job is the chance to collaborate from time to time with organizations like the National Mobility Equipment Dealers Association (NMEDA) to give deserving people dependable transportation at no cost to them.
That was precisely what happened on Tuesday, September 13, 2016, when representatives from FCA US were on hand at K&M Dodge in Grand Rapids, Michigan, to witness Dave Hastings take ownership of a brand-new Chrysler Town & Country minivan. Hastings, one of three winners of NMEDA's 2016 Local Heroes Contest (sponsored in part by FCA US LLC), took top honors in the Caretaker category for his tireless work in the service of others.
Married for 33 years, Hastings is the primary caregiver for his wife Lori, who has Muscular Dystrophy. In 2012, Hastings was himself diagnosed with Multiple Sclerosis and forced to retire early. Experiencing firsthand the hardships medical expenses can have on families, the Hastings founded Lori's Voice, a non-profit organization that raises funds to assist with medical expenses not covered by insurance for special-needs children under the age of 18.
Donated by FCA US LLC, the Hastings' new Chrysler Town & Country received mobility upfits from Eldorado Mobility and Clock Mobility, sponsors of the contest along with NMEDA and FCA US. The minivan replaces an older lift van, which, according to the Hastings' daughter, is no longer dependable. "It's just a matter of time before it falls apart," she wrote in her nomination letter.
FCA US LLC is familiar with helping families like the Hastings solve their transportation needs. The company offers reimbursements through a program called FCA Automobility to help reduce the cost of installing adaptive driver or passenger equipment. But the chance to donate a vehicle outright is always exciting.
"When you look at the smile on the faces of Dave and Lori, it makes it all worthwhile," said Leonard Brown, Minivan Product Planning Manager and FCA Mobility Lead. Brown noted that this year's event was not the first for FCA US LLC. "This is the fifth consecutive year we've participated on the Local Heroes giveaway program. It's a great charity and it's a great way to give back the community."
For Brown and his team, the most gratifying element of this year's giveaway could be the Hastings' intention to use the new van to continue their work with Lori's Voice. Said Dave Hastings of their plans: "We're so very thankful and humbled that we won, and we appreciate all that FCA US has done for us. We can't tell you the difference it's going to make with our mission to help people who need vans like this themselves."
No doubt there were other nominees as deserving as Dave Hastings. Given his and his wife's commitment to young people with disabilities, it's hard to imagine anyone more deserving.