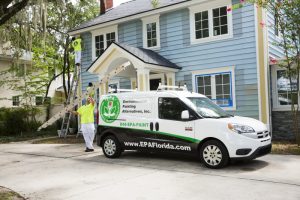 Longtime readers of this blog might remember Environmental Painting Alternatives (EPA), a Florida-based commercial painting contractor with over 40 years' experience. In 2015, we traveled to Florida to interview co-founder and vice president Marvin Couch about the impact his two new Ram ProMaster® cargo vans were having on the business.
Since our original visit, EPA has made significant inroads into the residential market. They are working diligently to become the largest residential painting contractor in the state of Florida by applying best practices learned on the commercial side of business.
To succeed in this new market, EPA is relying on its two Ram ProMaster cargo vans along with its one new Ram ProMaster City®, which is the focus of our latest video with Marvin and company. Please enjoy.
Visit a BusinessLink dealer near you to learn more about the Ram ProMaster City. But first, watch this video about Marvin's experience with the BusinessLink program.