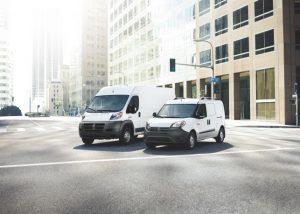 No matter where they're from or what they do to make a living, successful small-business owners the world over often have certain important characteristics in common – a creative spirit, unwavering self-confidence, a strong work ethic … the list goes on and on. Unfortunately, they also sometimes share a shortage of something else: spare time.
Even when a new work vehicle could make the business more productive, and therefore more profitable, the daily demands of running the company can make it difficult for decision makers to find enough time to research new vehicles on the internet let alone take a test drive.
Knowing this, the team at the Ram Trucks took it upon themselves to give a select group of small-business owners the chance to test drive the Ram ProMaster® and Ram ProMaster City® cargo vans. What did the business owners think? Watch the videos to find out.
Ram On Demand | All Business Test Drives
Description: From New York to LA, small-business owners had the chance to get behind the wheel of a Ram ProMaster or Ram ProMaster City to see if it was cut out for their business needs in whole new kind of test drive.
Ram On Demand | Test Drive: Veestro
Description: The rapidly growing business needs of Veestro call for the help of a Ram ProMaster City. Hoping to replace their minivan, owners Monica and Mark take the Ram ProMaster City for a test drive and learn how easy it can be to take their business to the next level.
Ram on Demand | Test Drive: Andrew's Honey
Description: Urban beekeeping in New York City has a lot of challenges, but nothing like parking and driving through the busy streets of New York. Andrew of Andrew's Honey gets to put the Ram ProMaster to the test and see if it can help him meet all of his business needs.
Discover for yourself the impact a new Ram ProMaster or ProMaster City could have on your business. Schedule a test drive today!