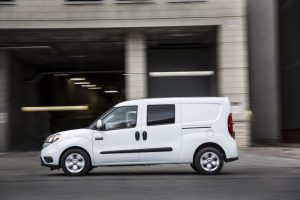 Welcome to the second installment of Ram On Demand, a multi-part video series featuring a cast of hardworking professionals test-driving the Ram ProMaster City® and its larger compatriot, the Ram ProMaster® cargo van.
In Ram On Demand, Part I, we had the pleasure of meeting an urban beekeeper and the owners of a vegetarian meal delivery service. Part II is a departure from the food industry, but not from work-minded people who need capable built-for-work vehicles.
The first video stars a film production company. The other features an especially poignant story of an ex-convict getting his life on track. Both are worth watching, especially for small-business owners in the market for a new cargo van.
Ram On Demand | Test Drive: Digital Film Studio
Description: Danny at Digital Film Studios is no stranger to how a van can help his business. What he didn't expect was what a Ram ProMaster has to offer.
Ram On Demand | Test Drive: Pest at Rest
Description: Meet Rich — New York native and ex-convict. Working at the non-profit Pest at Rest to help him rebuild his life, he needs reliability. See how the Ram ProMaster City comes in to help his everyday pest extermination tasks stay reliable and professional.
Visit a BusinessLink dealer near you to discover the impact a new Ram ProMaster or ProMaster City could have on your business.