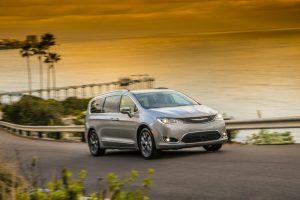 Stop the presses! Another well-known, highly respected publication has bestowed top honors on a recent addition to the FCA US LLC family of vehicles. That publication is Popular Mechanics. The honor is Best Minivan. And the vehicle – you guessed it – the All-New 2017 Chrysler Pacifica.
To select award winners in each category, Best Minivan included, editors at Popular Mechanics drove all relevant class contenders over the course of the year. They then picked the vehicles they felt transcended the competition. The full list of Automotive Excellence Awards is in the May issue of Popular Mechanics.
"Over three decades, the Chrysler Brand has refined the category it invented, arriving at the current standard for minivan excellence," said Ezra Dyer, automotive editor at Popular Mechanics. "The Pacifica looks sleek and low-slung without committing the unforgivable minivan sin of trying too hard. Other vans have disappearing third rows, but the Pacifica can hide its second row, too, instantly transforming from luxury people-mover to capacious cargo van."
A test drive at your local BusinessLink dealer is the absolute best way to experience everything the All-New 2017 Chrysler Pacifica has to offer. The next best way might be by watching this YouTube video playlist (see below), followed by a quick read of blog posts documenting other recent awards (like this one and this one). If you enjoy this content, be sure to check back often for more on the Chrysler Pacifica and other exciting new vehicles from FCA US LLC.