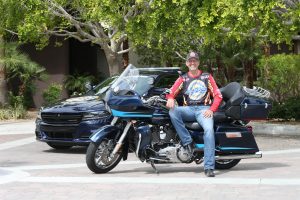 On the morning of May 13, 2017, hearts and engines will roar to life at the official kickoff of the 23rd annual Kyle Petty Charity Ride Across America. Former NASCAR® driver and NBC Sports racing analyst Kyle Petty will lead 200 motorcyclists across the country to raise funds and awareness for Victory Junction, a camp dedicated to providing life-changing camping experiences for children with chronic or life-threatening illnesses at no cost to their families.
"The Ride brings with it a comradery and compassion that can't be matched," says Kyle Petty's father and seven-time NASCAR championship winner Richard Petty. "That's what makes it one of the most popular motorcycle rides in the country."
The riders will travel through eight states in seven days, covering 2,400 miles total, every one of them behind a Dodge Charger Pursuit, the official pace car for the ride. Support staff will accompany the riders in trucks, vans and SUVs provided by FCA Fleet and FCA Automobility.
The Ride starts in Portland, Oregon, on May 13 and finishes in Milwaukee, Wisconsin, on May 19. "This year, we'll be riding through some amazing parts of the country, like Mount Rushmore, and for the very first time, the Columbia River Gorge," says Kyle Petty.
Fans are encouraged to support the cause and greet riders at one of the Ride's daily pit stops or seven overnight stops (schedule below). Spectators along the route may also purchase memorabilia or contribute to the Ride's "Small Change. Big Impact." program, which accepts donations at each stop.
23rd Annual Kyle Petty Charity Ride Across America Schedule:
Day 1: Saturday, May 13, Portland, OR, to Walla Walla, WA
Day 2: Sunday, May 14, Walla Walla, WA, to Missoula, MT
Day 3: Monday, May 15, Missoula, MT, to Cody, WY
Day 4: Tuesday, May 16, Cody, WY, to Deadwood, SD
Day 5: Wednesday, May 17, Deadwood, SD, to Mitchell, SD
Day 6: Thursday, May 18, Mitchell, SD, to Minneapolis, MN
Day 7: Friday, May 19, Minneapolis, MN, to Milwaukee, WI
Last year, the Ride raised more than one million dollars, sending 100 children to camp at no cost to their families. Victory Junction has served as the Ride's primary beneficiary since its establishment by the Petty family in 2004, in honor of Kyle Petty's late son Adam. To follow the ride, follow along on social media:
For more information about the 23rd annual Kyle Petty Charity Ride Across America, please visit http://www.kylepettycharityride.com/