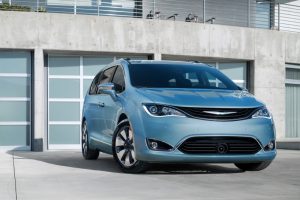 Flying pigs, a blue moon, a highly efficient minivan that gets up to 84 MPGe highway* – until recently, you were unlikely to see any of these things on (or over) the back roads, main streets and expressways of your town. Now that the All-New 2017 Chrysler Pacifica Hybrid is arriving in dealerships, you can safely remove at least one item from the list.
"If I had told you even two years ago that the Chrysler Brand would transform the minivan segment with the industry's first hybrid minivan, and that it would achieve up to 84 MPGe, with class-leading features and innovations, including hybrid-exclusive technology features, including a smartphone app, deliver relevant vehicle information, such as charge status and scheduling, charging station locations and an 'efficiency coach' for more efficient driving, many consumers would have said they'll believe it 'when pigs fly'," said Tim Kuniskis, Head of Passenger Car Brands – Dodge, SRT, Chrysler and FIAT®, FCA – North America. "With the All-New 2017 Chrysler Pacifica Hybrid arriving into dealerships, consumers will no longer have to say they'll believe it when they see it, and can now experience it firsthand for themselves."
Fittingly, the Chrysler Brand unveiled a fun new 30-second spot to help celebrate the availability of its exciting new hybrid minivan. Called "Flying Pigs," the spot heralds the arrival of what was once thought impossible, namely an innovative, business-ready vehicle with fuel economy reaching up to 84 MPGe.
Are you interested in learning more about the All-New 2017 Chrysler Pacifica Hybrid? Drop by to speak with the small-business vehicle experts at a BusinessLink near you.
*EPA estimated miles per gallon of gasoline equivalent (MPGe). Actual mileage may vary.