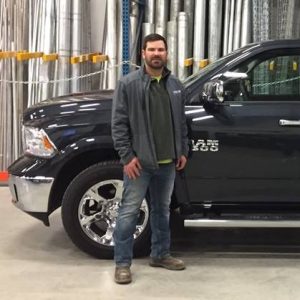 Each year, our partners at Associated Builders and Contractors, Inc. (ABC) present the Craft Professional of the Year Award to an individual who sets the standard for professionals in their craft by exhibiting outstanding skills and leadership in combination with an unwavering commitment to safety.
This year's winner of the prestigious award (and a new Ram 1500 along with it) is Adam Ruff, a field supervisor for Price Electric in Robins, Iowa.
According to ABC National Chair Chuck Goodrich, Adam is a "tremendous leader" and one "we are proud to honor [for] his hard work at Price Electric and in his local community." For this reason and others it was our great pleasure to interview Adam for the FCA Work Vehicles blog. Please enjoy.
Thanks for speaking with us today, Adam. Tell us, what are the primary services of Price Electric?
We have 130+ employees and most of them are commercial and industrial electricians. We also have a residential division, utility/underground division and a hi-tech division.
What does it mean to you to be nominated for the Craft Professional of the Year award?
It's great but I'm happier for the whole Price team. It puts a spotlight on the entire company and its employees. That means the most to me.
What does winning the award say about your approach to the job?
I'm a humble person who tries to be honest and straightforward with everyone. To me, if you approach dealing with people this way, they seem to appreciate you more than the next guy.
What do you like most about your job on a day-to-day basis?
Seeing the daily development of all the foremen, lead men and apprentices.
In your opinion, why are associations like ABC important for a craft professional like yourself?
They advocate for the merit shop philosophy. They are also important for training and developing the future leaders of the construction industry.
Tell us how you reacted when you learned you won a new Ram truck.
I was completely in shock. It took a day or two to sink in. I still don't think it's fully sunk in yet. I thought the other nominees were just as deserving of winning.
Now that the truck is in your possession, what specific feature is proving to be most valuable?
The room inside the cab is great. We use it as our family vehicle. My wife has never really driven a truck and she loves how it handles. We also love the sound system and other hi-tech features.
Would you recommend a truck like yours to other craft professionals? If so, what would you say to convince your colleagues and peers that a Ram truck is the right truck for this profession?
Reliability, power and comfort. I've owned a Ram truck before. I always liked the look of the vehicles. We also own a Jeep® Wrangler.
What advice do you have for craft professionals striving to achieve similar accomplishments?
Listen to the guys doing the work. They have the best ideas. Also, we need to adapt our training methods to younger generations by using more visual and web-based tools.
If you can, try to sum up the entire experience in a single word or two.
Life changing.
We here at the FCA Work Vehicles blog along with our colleagues across FCA US LLC wish to extend our congratulations to Adam on winning this award (and truck) and for setting such a positive example in general. Great work, Adam!
We also want to remind members of ABC and similar organizations that they are eligible for a $500 cash allowance toward the purchase or lease of select Chrysler, Jeep®, Dodge, Ram of FIAT® Brand vehicles. For more information, stop by a BusinessLink dealership near you or visit the member benefit page on your association's website.