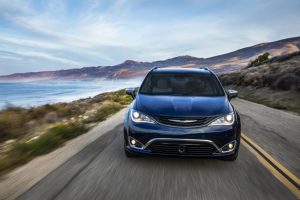 Only a few months into production and the All-New 2017 Chrysler Pacifica Hybrid is already making it presence felt in a big way among competitors. The innovative new minivan from the Chrysler Brand racked up four – count them – four major awards at the Texas Auto Roundup hosted by the Texas Auto Writers Association (TAWA) at Circuit of The Americas (COTA). The honors include Minivan of Texas, Green Vehicle of Texas, Best New Feature (Hybrid Powertrain) and Family Car of Texas.
No stranger to awards itself, the Jeep® Brand put up a good showing in its own right, taking top honors with the All-New 2017 Jeep Compass (Activity Vehicle of Texas) and the 2017 Jeep Grand Cherokee SRT® (Performance Utility Vehicle of Texas). All told, FCA US LLC took home six awards, more than any other automaker.
"Several vehicles from FCA US LLC were top performers at the Roundup this year," said Nic Phillips, President of TAWA. "The All-New 2017 Chrysler Pacifica Hybrid minivan was the clear leader for one of our top awards, the Family Car of Texas. As the industry's first electrified hybrid minivan, the Chrysler Brand has taken not only this family vehicle but the entire plug-in electric class to a whole new level. The Pacifica is loaded with high-tech features that make it easy to connect, charge and maximize the efficiency of the vehicle, not to mention offering the safety features and technology that every family deserves."
Phillips continued, "The Jeep Brand vehicles also impressed our judges. The All-New 2017 Jeep Compass led the diverse Activity Vehicle category, offering excellent versatility, capability and go-anywhere styling, while the Grand Cherokee SRT continues to demonstrate the incredible package of handling, power and segment value, worthy of our Performance Utility Vehicle award."
With its 20 turns, 133-foot hill and a coned-slalom segment in the straightaway, the 3.4-mile track at COTA provided a world-class driving experience for evaluating vehicles in side-by-side comparisons unlike any other automotive media event. A total of 52 TAWA journalists attended and drove 42 vehicles during the two-day event.
To learn more about the All-New 2017 Chrysler Pacifica Hybrid and FCA US LLC's other award-winning vehicles, stop by to talk in person with the experts at a BusinessLink dealership near you.