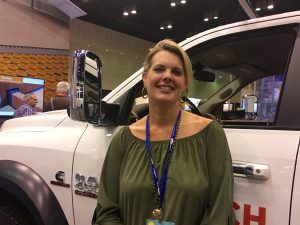 NAHB member Shelley Reynolds, Owner and President of Reynolds Signature Homes, has many titles: mom, business owner and, most recently, badass.
That's the word Shelley uses to describe how her Ram 1500 makes her feel. "It's funny," she says, "90% of the time when I drive up in my truck to meet a new contractor, the comment I get is, 'You're not what I expected.'"
Here is what you can expect from this big-time small-business owner: Attention to detail. And she expects the same from her Ram 1500, mentioning the available Uconnect® Wi-Fi hot spot feature that turns her truck into a mobile office. "It's features like this that are so important because they make life easier," she says.
Shelley's other must-have features include the rear in-floor storage bins and the dashboard glove box that stow her tools and gloves safely out of the way. "I love the storage because it lets me separate my work and personal life," she says. "I used to have an SUV and I was tired of my car looking like my work truck all the time."
Driving the Ram 1500 is no work thanks to the available Active-Level™ Four-Corner Air Suspension. "It doesn't have the rough ride of a truck but a smooth ride of a car or SUV," Shelley says.
Asked to share the best lesson she's learned in business, Shelley doesn't skip a beat: "Stand up for what you believe in. Never back down from what you feel is right." Hearing that, one word immediately comes to mind – badass.
Remember, as an NAHB member, you, your immediate family members and employees are eligible for a $500 allowance good toward the purchase or lease of select Chrysler, Dodge, Jeep®, Ram and FIAT® Brand vehicles. Visit the members benefits page for complete details.