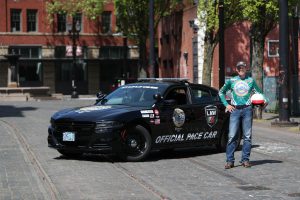 More than 2,000 miles of open road, hundreds of friends and a great charity to boot – once again the Kyle Petty Charity Ride Across America combined these elements and more in a weeklong fundraising event for Victory Junction, a camp dedicated to providing no-cost life-changing experiences for children with chronic or life-threatening illnesses.
From May 13 to May 19, 2017, two hundred motorcyclists along with their dedicated support team powered their way across the upper U.S., leaving Portland, Oregon, on a Saturday and arriving in Milwaukee, Wisconsin, a mere seven days later. Stops along the way gave fans and spectators a chance to rub elbows with riders and, more importantly, to learn more about the good things happening at Victory Junction.
FCA US LLC was proud to do its part by contributing a Dodge Charger Pursuit pace car as well as several support vehicles. While memories of the ride will long remain – from the incredible landscape to the tremendous people involved – the best part is knowing that because of this trip more kids will experience Victory Junction and begin making great memories of their own. Here are just a few of the highlights from the ride.
Another day, another town, all for a great cause.
The Dodge Charger Pursuit, official pace car of the Kyle Petty Charity Ride Across America.
FCA US LLC support vehicles.
Leading the way with Kyle Petty and the Dodge Charger Pursuit.
Even in the valleys, it was all peaks on the Kyle Petty Charity Ride Across America!
Visit the Victory Junction website to find out how you can support this great cause.