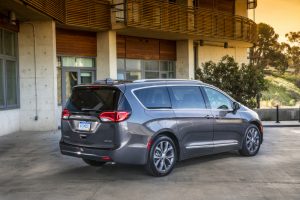 Welcome to Round 2 of an exciting head-to-head matchup between the All-New 2017 Chrysler Pacifica and the vehicles widely considered its main competition. Round 1 (see it here) went just as we expected, with the innovative new minivan from the Chrysler Brand besting competitors in four of four videos, each one spotlighting a different yet equally important vehicle feature.
Spoiler alert. Round 2 is more of the same. Much more. Here again in a series of humorous videos the Chrysler Pacifica shows why it's the smart choice for dads, moms, kids, business owners, business associates, employees and just about any other demographic you can think of.
Enjoy these videos and then be sure to visit your local BusinessLink dealership to get the full story on the most recent addition to the Chrysler Brand, which also just happens to be one of the most exciting in the brand's long, iconic history.
Pacifica Street Smarts: Easy Tilt Seating
Pacifica Street Smarts: Stow 'n Go® Seating
Pacifica Street Smarts: Stow 'n Vac™