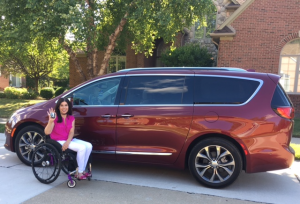 Meet Cheryl Angelelli, a Paralympic medal winner, an Athletes with Disabilities Hall of Fame inductee, a wheelchair ballroom dancer and now an official brand ambassador for FCA Automobility. This is the first in a series of guest posts from Cheryl. Give it a read and then be sure to tune in for future updates. There is plenty more to come!
I am very excited to have partnered with FCA US Automobility to be a brand ambassador for the Chrysler Pacifica.
First, let me tell you a little bit about myself. When I was 14 years old, I broke my neck in a diving accident and became a quadriplegic. But I was determined not to let my wheelchair define me or limit me from living the fullest life possible. In fact, I returned to the pool after my accident and became a four-time Paralympic medalist and World Record holder in swimming. After 16 years of competing internationally, I retired from swimming in 2014 and took on a new Paralympic sport, competitive wheelchair ballroom dancing.
I live a very full and active life, and a big part of what makes that possible is my adapted vehicle. So I was thrilled when FCA Automobility asked me to conduct an extended, 18-month test drive of the 2017 Chrysler Pacifica Limited.
I have been driving the vehicle for about a month now, including a weekend road trip, so I have come to really appreciate all the technology and features in this vehicle that help make driving easier and more accessible for me.
Since I am a quadriplegic, I drive with hand controls and a modified steering wheel to help me grip and turn the wheel. Since both my hands are needed to operate the vehicle, I love that the Pacifica has so many available functions that can be operated with hands-free technology. For example, I can control the climate, tune the radio, operate the GPS and make a phone call all through voice recognition.
Another hands-free function I love is the rain-sensing windshield wipers. The vehicle is equipped with technology to detect moisture on the windshield and, when programmed, the wipers will come on automatically. Similarly, my high beams automatically turn on in low-visibility conditions.
I also love the keyless entry and push button start. Since I have hand weakness due to my disability, I no longer have to fumble with keys to open the car or start the car, both can be done with a simple push of a button. No more digging for keys at the bottom of my purse!
I also appreciate all the extra space in this vehicle and the Stow 'n Go® seats. On a recent road trip we were able to fit my wheelchair, my handcycle, my husband's bike, a cooler and our luggage in the Pacifica with room to spare. What I love about the Stow 'n Go seats in the new Pacifica is that you can fold the rear seats down into the floor or up with a push of a button. I could never operate the rear Stow 'n Go seats by myself in my other Chrysler vehicles because I didn't have the strength to do so. Now I have the independence to use them.
An often-overlooked advantage to owning a new or leased Chrysler vehicle is the FCA Automobility Program, which provides a $1,000 rebate toward the purchase of adaptive equipment for your vehicle — a huge help. To learn more about the program, visit the FCA Automobility website.
I look forward to more adventures and miles in my new Chrysler Pacifica. You can follow my journey in the Pacifica and all the ways #ILiveForward at www.fcausautomobility.com.