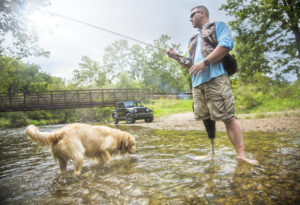 "That was too much fun." –Tim Lang, Brand Ambassador, FCA Automobility
You might find his equal, but you'd be hard pressed to find a better brand ambassador than Tim Lang. The U.S. Marine Corps veteran is active and outgoing, an all-around gifted athlete (and especially talented golfer) who personifies the up-for-anything spirit of the adaptive Jeep® Wrangler he drives and the FCA Automobility Brand he now represents.
It turns out Tim is a pretty good interviewer, too. We recently sent the new ambassador to the 2017 No Barriers Summit in Lake Tahoe, California. While Tim participated in many of the activities offered at the four-day event, he also found time to talk with other attendees who, like him, drive adaptive vehicles from FCA US LLC.
Please enjoy these videos captured at the event, and stay tuned to this blog and the FCA Automobility Facebook page for more content from Tim. (Nice work, Tim!)
2017 No Barriers Summit | Lake Tahoe, California
FCA US LLC created the Automobility Program to help provide customizable adaptive equipment through a reimbursement of up to $1,000. Learn more on the FCA Automobility website: https://www.fcausautomobility.com/