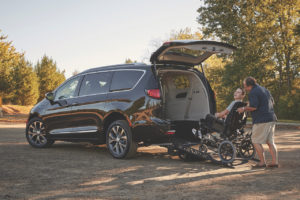 Ever an innovator, the Chrysler Brand achieved a whopping 37 "firsts" when it unveiled the All-New Chrysler Pacifica in model year 2017. The most notable innovation, arguably, was the available gasoline-electric hybrid engine, a means of locomotion not previously offered in the minivan segment.
FCA and the Chrysler Brand recently leveraged that noteworthy first into another, teaming up with REV Group, a designer, manufacturer and distributor of specialty vehicles and parts, to produce America's first wheelchair-accessible hybrid minivan – the Revability Advantage Chrysler Pacifica.
Revability, the mobility division of REV Group, custom built the Advantage Pacifica entirely at its Michigan facility, lowering the Pacifica's floor, installing a deployable rear ramp, fabricating and relocating a new gas tank, and performing other structural changes to help ensure safety, stability and easy wheelchair access.
"The lowered floor provides a spacious interior for a passenger in a wheelchair to maneuver inside the vehicle and safely utilize the vehicle's 35-inch-wide ramp," said Jeff Kommor, Vice President – U.S. Sales Operations, Fleet and Small Business Sales at FCA US LLC. "FCA was the first automaker to enter the mobility marketplace with our Driveability Program. Now, with Revability, we are introducing another minivan first — America's first-ever, wheelchair-accessible, production plug-in hybrid minivan to the marketplace."
The Advantage Pacifica features front- and middle-row captain's seats with wheelchair accessibility from the rear of the vehicle via a manual low-effort counterbalanced ramp. An optional trifold ramp maximizes luggage-compartment storage space when the wheelchair is not in use. When folded in this configuration, it provides secure storage beneath the ramp, while maintaining wheelchair accessibility.
Revability will market the vehicle to both commercial and personal-use customers. The Advantage Pacifica will go on sale in the first quarter of 2018. The specialized minivan made its debut at the 2017 Los Angeles Auto Show.
"We are thrilled to be part of the Chrysler Pacifica press reception at the Los Angeles Auto Show," said Chuck Fortinberry, Vice President of Revability. "Its focus on leading-edge technology is perfectly aligned with Revability and REV Group as a whole. The Advantage Pacifica continues REV Group's tradition of providing the highest-quality handcrafted specialty vehicles to its customers based on the latest technology available."
Remember – the FCA US Driveability Program provides customizable adaptive equipment to help make life easier for people with disabilities. Visit the program website to learn more about the available $1,000 reimbursement on the purchase of qualifying equipment.