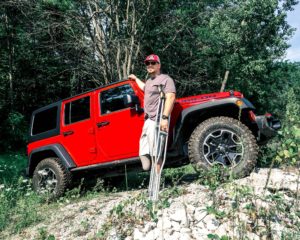 We are pleased and proud to introduce Tim Lang — father, husband, U.S. Marine Corps veteran, gifted athlete, outdoor adventurer and now a brand ambassador for FCA Automobility. This is Tim's first post and the second post overall in our new FCA Automobility brand ambassador blog series (here's the first). Please enjoy!
My name is Tim Lang and I am very excited to partner with FCA US LLC as a brand ambassador for the FCA Automobility program. FCA Automobility is focused on bringing greater mobility to customers who are in need of adaptability. In 2006, as a 21-year-old, I learned more than most about the importance of mobility. While serving in Fallujah, Iraq, with 1/24 Marines, I was hit by an IED (improvised explosive device). I lost two of my brothers and heroes that day, and I was fortunate to escape with my life, though in critical condition.
Initially, all I cared about were the brothers I lost, but as the months turned to years and the surgeries exceeded forty, I experienced depression at a whole new level. I knew I had to get back on my feet, one of which was a prosthetic, and move forward. It was through the help of many dedicated Americans that I began to honor the lives of those I lost that October day in 2006.
I began to see challenges as opportunities to conquer. I started to focus on fitness and working out, I learned to play golf at a high level and I got back into hunting and tried fishing. Most importantly, I began sharing my encounter with adversity in an effort to empower others who were also struggling with physical challenges or depression.
In time I learned that mobility was not merely a movement but also a mindset. Anything I want to do, I do, and anywhere I want to go, I go. Now I have a vehicle with the same attitude: a Jeep® Wrangler Rubicon. Sure, I love the mean hood and the breeze that flows over me when the top is off. And yes, I love the leather-trimmed interior, the lift, the mud tires and the tow package, same as I love the 4×4 off-road capability and, of course, the 3.6L Pentastar® V6 engine that gives up to 285 horsepower and 260 pound-feet of torque. But it's the anywhere-anytime attitude that I love the most. It's the mobility that gives me the most prmide. After all, I know what it feels like to have my mobility limited.
We hope you're as excited as we are to see where Tim takes his customized Jeep Wrangler in the next 18 months (the length of his ambassadorship). Follow his journey on this blog as well as the official FCA Automobility Facebook page.