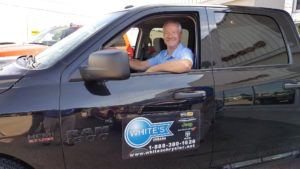 Larry Seibel is a self-proclaimed "Mopar® guy". The Lewisburg, Ohio, resident is also an Ag teacher, farmer and, as such, a regular attendee of farm-related conventions and trade shows.
It was at one such event in January 2016 that Mr. Seibel entered a nationwide sweepstakes for a chance to win a new vehicle from FCA US LLC. It's a good thing he did. When it came time to draw a grand-prize winner at random from thousands of entries, it was Mr. Seibel's name that was selected.
Mr. Seibel took ownership of his Ram 1500 in July. We had the pleasure recently to ask him a few questions regarding his new truck and the experience of winning it. Please enjoy the conversation.
FCA Work Vehicles: First, congratulations on your big win. Tell us how you reacted when you heard the news.
Larry Seibel: At first I thought it was a scam (so much of that going on these days). But after investigating, I realized it was true. At that point I was elated. I don't win things and this was fantastic!
Do you intend to use your truck for work, for play or a combination of both?
I plan to use the truck for work and as a daily driver. I am an Agriculture teacher at a career center, teaching Diesel Power Technologies by day. I own a cattle farm as well.
Now that the truck is in your possession, what specific feature is proving to be most valuable?
My other truck is a ¾-ton Ram Truck with a Cummins® 12V diesel engine. I love it. Bought it new in 1996. I got the Ram 1500 for daily driving and light-duty work. I like the smooth power of the 5.7L HEMI® V8 engine. The 4-door has so much room for taking people along. Love it!
Would you recommend a truck like yours to others?
I recommend Ram Trucks every day – just ask my students! I've owned trucks from all three big automakers, and Ram trucks are just so reliable. Get one with an available Cummins diesel engine and, with chassis maintenance, you'll never need another one! My brother-in-law has a 2008 6.7L Cummins 4-door Ram dually with 1.4 million miles on it!*
If you can, try to sum up the entire experience in a single word or two.
Wild. Exciting. Unbelievable!
*Results not typical