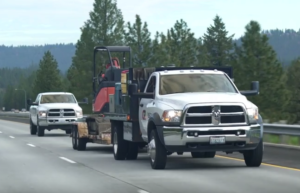 "Concrete doesn't wait. We need a truck we can depend on every single day." – Jayson Grainger, Project Manager, Cameron-Reilly Concrete
There's nothing like a load of quickly curing concrete to make you appreciate a good work truck, one you can rely on not just to get you to the jobsite, but to get you there on time, with a full crew and all the equipment you need to complete the project for that day.
It's telling then that a company like Cameron-Reilly Concrete of Spokane, Washington, would purchase three Ram trucks in a row – a Ram 5500 first and then, based on its performance, two Ram 3500s a few years later.
When stakes are high and time is of the essence, a company needs vehicles it can count on. Cameron-Reilly, like countless other companies, knows it can depend on the capable work vehicles of Ram Trucks. Watch the video to learn more.
Cameron-Reilly Concrete | On The Job
Begin building your own fleet of dependable work vehicles – stop by your local BusinessLink dealership today!