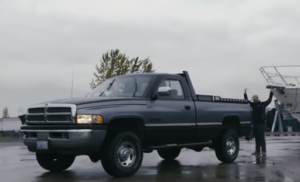 "You start to think about what's happened in all those miles and between those years, and it starts to take on more of a human-like personality. It really becomes more of a family member than just a truck." –Eric, Owner, 1994 Ram 2500 (404,806 miles)
It would be impossible to interview every owner of a high-mileage Ram truck, let alone create a video for each vehicle to document the ways it's proved indispensible across the years. Impossible though it may be, it hasn't stopped the Ram Brand from trying, or so it would seem.
Here now is another video in the Ram Trucks "Long Live Ram" series. Like the other videos in the series (find them here, here and here), this one too stars a hardworking Ram owner alongside the Ram truck he depends on every day, and has depended on for close to a quarter century.
Long Live Ram | Owner Story | Eric's Ram 2500 | 404,806 Miles
Welcome a new Ram truck into your family. Visit our website or a BusinessLink dealership near you to see the latest models available.