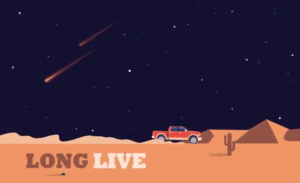 In these exciting times of digital downloads and streaming music services, it's not uncommon to have a playlist created for just about every activity in the day – from the morning jog to dinner prep to relaxing before bed.
One of the more important playlists, we would argue, is the one that gets you amped up for work, especially if you're a small-business owner or entrepreneur. The right music can put you in the right frame of mind, after all, and the right frame of mind is where you need to be to run a successful business.
Your friends at the Ram Brand want to help put you in that right frame of mind and keep you there with five original songs. The brand partnered recently with hit songwriters from Universal Music Publishing Group Nashville to develop a series of tunes based on the core pillars of Ram Trucks – family, courage, hard work, integrity, tenacity, loyalty, resilience and community.
While these songs aren't specifically truck related, they are each a sound representation (pun intended) of the ideals and principles that inform the Ram Trucks Brand. As such, we feel they would be a welcome addition to any playlist, particularly one intended to inspire.
Long Live Us | Jeremy Bussey
Long Live | Gareth Dunlop & Brent Maher
Long Live the Dreamers | Lizzy McAvoy
Long Live the Drive | Jeremy Bussey & Jamie Paulin
Long Live the Freedom | Caylee Hammack & Connor Thoutte
Now that you're sufficiently inspired, stop by your local BusinessLink dealership to check out the full line of capable Ram Brand vehicles.