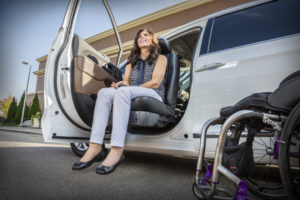 There is no stopping Cheryl Angelelli. The seven-time world-champion swimmer and four-time Paralympic medalist retired from competitive swimming in 2014 only to find a new sport in which to excel – competitive ballroom dancing.
Since then she has accomplished more in just a few years on the dance floor than most do in their careers, racking up awards and, more importantly, co-founding Dance Mobility, a program that offers dance lessons free of charge to people with disabilities.
For these reasons and more, many of which are outlined in the video below, we're proud to have Cheryl as a Brand Ambassador for FCA Driveability. We're pleased to know too that in any current or future endeavors she takes on (and in any sport she decides to dominate), an adaptive Chrysler Pacifica will be along for the ride.
The FCA US Driveability Program provides customizable adaptive equipment to help make life easier for people with disabilities. Visit the program website to learn more about the available $1,000 reimbursement on the purchase of qualifying equipment.