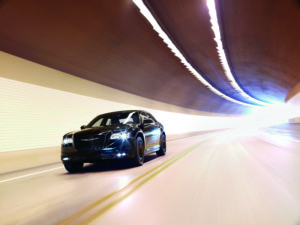 With an available 363-horsepower 5.7L HEMI® V8 engine, 20-inch Hyper Black aluminum wheels, black exterior and interior highlights and a performance-tuned suspension, among other features, the fully loaded Chrysler 300S is a luxury vehicle in every aspect but sticker price.
That's the gist of a lighthearted new video posted recently on the Chrysler Brand's YouTube page. And while the humorous, 30-second spot is sure to leave you chuckling, the sleek and sophisticated 2018 Chrysler 300S will do anything but. This is not to say the car won't make you happy, or leave you grinning ear to ear, only that the joy you experience will be from owning and driving a great sedan, one sure to get noticed (for all the right reasons!) in the parking lot at work.
Stop by your local BusinessLink dealership to learn more about the 2018 Chrysler 300S and other sleek, sophisticated – and affordable – vehicles from FCA US LLC. (The redesigned Jeep® Compass comes to mind).