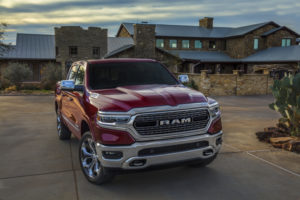 When Mike Manley, Head of Ram Brand, officially unveiled the All-New 2019 Ram 1500 at the North American International Auto Show in early 2018, he did more than introduce a great new work vehicle. He introduced the next chapter in the long and storied history of Ram Trucks, one sure to be remembered for several groundbreaking reasons – an available next-gen 4C Uconnect® system with a massive 12-inch touchscreen, a lighter, stronger frame made with 98% high-strength steel and an available eTorque mild hybrid system, to name just a few.
Chances are good that regular readers of this blog will have heard already about the very exciting and all-new light-duty pickup truck from Ram Trucks – we posted about it here on the day it was announced. But maybe you didn't see the live feed of Mr. Manley's presentation on Facebook. Fortunately, the presentation was recorded and we are pleased to share it below.
Keep an eye on our blog for more information on this truck and other work-ready vehicles from FCA US LLC.