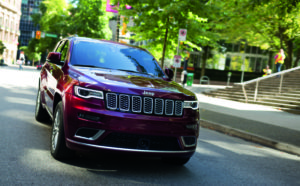 A version of this post appeared recently on NAWBO One, a monthly online publication providing "timely resources and valuable information" to members of the National Association of Women Business owners (NAWBO), one of FCA's trade association partners.
We're reposting it here because (a) Jesika Young is a dynamic business owner with a good story and great work ethic; and (b) she is yet another satisfied trade association member who successfully used vehicle-related member benefits toward the purchase of an FCA vehicle, in her case, a Jeep® Grand Cherokee. Please enjoy.
No list of "movers and shakers" is complete without a woman like Jesika Young. The Louisville native's resume includes several impressive job titles, any one of which would satisfy even the most ambitious young professional. President of NAWBO Kentucky, Vice President of Commercial Banking at MainSource Bank, contributing writer for Millennial Mom Magazine and Co-Founder of the successful nonprofit Women Who Wine for a Cause – these are just the titles this dynamic NAWBO member holds right now. A study of Jesika's full LinkedIn profile reveals a woman on an upward trajectory since her professional life began, and also one who is truly interested in making a difference in her community.
The latter point is a big reason Jesika joined NAWBO back in 2012. "I wanted to immerse myself in the community and into an organization that connected women to the resources necessary for them to succeed," she says. Jesika believes it is imperative for women to be part of an organization that elevates and advocates for them. Creating opportunities for women through education, advocacy and networking, "that is what NAWBO is all about." The organization, she says, gives women a voice and a seat at the table.
That's not all it gives them. "I always felt I've received more than I've given to NAWBO, be it through friendships or business earned." Considering NAWBO's mission (and its members), such results are to be expected. The most unexpected benefit, she says, has been the affinity partnerships. "The FCA US LLC benefit in particular has been tremendous. The money I saved on my Jeep Grand Cherokee literally covered my membership into the organization."
NAWBO's affinity partnership with FCA, like all its partnerships, is by design, a conscious effort by the organization to provide women with more access to the resources they need for success. Reliable transportation is extremely important, Jesika says, especially for women. "We wear many hats and have many obligations, from drop-off duty with the kids to business meeting after business meeting. Without a reliable vehicle, work and everyday life would come to a halt." With the benefit from FCA, a reliable vehicle is just a little more in reach.
Raising awareness of NAWBO's benefits, including those associated with affinity partnerships, is one of the many goals Jesika has as president of NAWBO Kentucky. Elected in January 2017, she is already having a significant impact. In year one of her presidency, the Kentucky chapter held its first-ever statewide symposium, worked closely with its foundation to provide scholarships to NAWBO-related events, launched a luncheon leadership series, graduated a third class from its GROW program and onboarded a new Executive Director. Jesika ultimately hopes to help align Kentucky with the national average of women-owned businesses. Given what she has accomplished already, success in that regard seems inevitable. This "mover and shaker" is helping move things in the right direction.
Remember, small-business owners who are not members of NAWBO or similar trade associations may still be eligible for vehicle incentives. Visit https://www.fcausfleet.com/ or contact your local BusinessLink dealer for information on all deals currently available. 
*Vehicle pictured is not Jesika Young's Jeep Grand Cherokee.