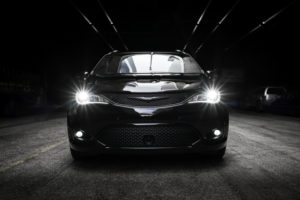 Here at FCA US LLC, we take our work seriously. The safety and security of our customers and their passengers is no laughing matter, after all, which is why every Chrysler Pacifica comes with standard SafetyTec™ featuring Blind Spot Monitoring1, Rear Cross Path Detection2, ParkSense® Rear Park Assist with Stop3 and more.
As serious as we take our work, we try to take ourselves a little less so. That is made abundantly clear in the Chrysler Brand's latest ad campaign featuring the very cool Chrysler Pacifica with S Appearance Package and the very funny comedian Kathryn Hahn.
Please enjoy these five videos, and then be sure to visit a BusinessLink dealership near you to check out a brand-new Chrysler Pacifica in person.
My Jam | Chrysler Pacifica S
Description: What happens when Kathryn Hahn gets a slick, blacked-out Chrysler Pacifica S model? She rocks out like a hurricane.
Parking Ticket | Chrysler Pacifica S
Description: The tricked-out Chrysler Pacifica S can help you mom with style, but it can't help you remember to feed the parking meter.
Back That Thing Up | Chrysler Pacifica S
Description: Kathryn Hahn thinks the available Parallel Park Assist is so good she gave it a soundtrack. The Chrysler Pacifica S does that to a person.
Soccer Practice | Chrysler Pacifica S
Description: Practice isn't the most riveting to watch. Luckily, the Chrysler Pacifica S is loaded with features that help you kill time — and have fun doing it.
School Pickup | Chrysler Pacifica S
Description: Kathryn Hahn gives them something to talk about when she pulls up to school in the Chrysler Pacifica S.
1Always check visually for vehicles prior to changing lanes.
2Always check entire surroundings visually before backing up.
3Always look before proceeding. An electronic drive aid is not a substitute for conscientious driving. Always be aware of your surroundings.