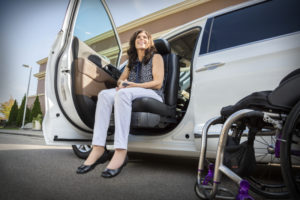 By Cheryl Angelelli
As a Brand Ambassador for FCA Driveability, it's exciting to see how adaptive technologies continue to broaden opportunities for people with disabilities to drive comfortably and safely.
I am a C6 incomplete quadriplegic, who has been driving for 31 years. My vehicle of choice has always been a Chrysler minivan, and up to this point in my life, I have only used hand controls and an adapted steering wheel. However, as I age, I am starting to consider other options to access my vehicle instead of manually loading my wheelchair behind the driver's seat of my Chrysler Pacifica.
This is a huge purchase with many options to consider, and each option has its pros and cons.
Side-Entry Ramp
Side-entry ramps are the most popular adaptive minivan conversions and allow wheelchair users driver's seat access. The seating remains similar to standard vehicles, and most side-entry minivans are converted so the wheelchair user can be completely independent. One of the biggest drawbacks is that parking is more difficult. You need 5 to 7 feet of empty space ramp-side to exit or enter the vehicle, meaning drivers can only park in accessible parking spaces.
Rear-Entry Ramp
One of the biggest benefits of rear-entry ramps is that they allow access to regular parking spaces if accessible ones are in use. They are also less costly than side-entry ramps in some cases. However, the drawbacks are that if you plan to drive, this option doesn't allow you to easily get into the driver's seat, and it limits passenger seating capacity.
Single-Arm Interior Lift
My research revealed a third option — one I like a lot. It's called the SPEEDY-LIFT from Adapt Solutions. You simply push a button and the lift picks up the wheelchair and tucks it into place behind the driver's seat. In most cases, only one seat is removed from the inside of the vehicle. The SPEEDY-LIFT is easily installed into the second-row seat mounts with no structural modifications to the vehicle, which is great for resale value. The SPEEDY-LIFT can be paired with the XL-SEAT, a simple transfer seat that lifts you right into the driver's seat. This option is also the least costly.
Whichever conversion option among these three turns out to be right for me, I have the confidence of knowing my Chrysler Pacifica will be able to accommodate it.
Obviously, this is a big decision and big expense, so I need to do more homework and visit a certified conversion dealer to test my options. Since I'm charting new territory here, I would love to hear feedback from real users. What adapted vehicle solution do you use, and how did you come to this decision? I look forward to reading your comments on this topic.
Remember – the FCA Driveability Program provides customizable adaptive equipment to help make life easier for people with disabilities. Visit the program website to learn more about the available $1,000 reimbursement on the purchase of qualifying equipment.
About the author: Cheryl Angelelli is a 4-time Paralympic medalist in swimming, an Athletes with Disabilities Hall of Fame inductee, an award-winning wheelchair ballroom dancer, co-founder of Dance Mobility and an official brand ambassador for FCA Drivability.