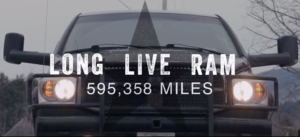 Jeremiah and Annie have a goal, and it's a good one – to cross the 1,000,000-mile odometer mark in their 2007 Ram 2500. Perhaps lofty, the goal is not out of reach, not when you consider that they are more than halfway there with nearly 600,000 miles logged on their truck already.
Residents of Vermont, their work as farriers takes them around the country helping horses with lower leg and hoof problems. With only a dozen or so other people certified in the profession across the U.S. (according to Jeremiah), it's no wonder they are in such high demand, and no wonder they demand so much from their truck.
That they've depended on their Ram 2500 for ten years to carry them more than half a million miles makes them suitable candidates (and then some!) for the Long Live Ram video series, their episode of which is posted below. Enjoy it along with the others in the series.
Stop by a BusinessLink dealership near you to learn more about the long-lasting vehicles of Ram Trucks and FCA US LLC.