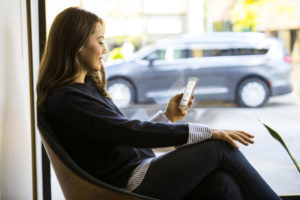 The best apps and websites are those that provide real, meaningful and measurable benefits to their users. An app or website that can, for instance, keep track in real time of a vehicle's service history and also suggest routine maintenance procedures based on mileage could be especially useful for small-business owners juggling many aspects of a business. Throw in access to coupons and discounts and it's easy to see how such a digital property could land a prime location on a smartphone or bookmarks folder.
What we've been describing is of course the Mopar.com website and its mobile counterpart, the Mopar® Owner's Companion App. Though similar in function, each offers a slightly different though complementary experience. Watch the videos below for a full rundown of each and to learn how the app and website can be put to work for the good of your business.
Mopar Owner's Companion App
Description: Looking for on-the-go convenience, offers and valuable vehicle information right at your fingertips? Look no further than the Mopar Owner's Companion App. Visit the App Store or Google Play to download the app today.
Features of Mopar.com
Description: Mopar.com is your one-stop shop, providing you with instant access to vehicle information, offers and coupons, dealership locations and more. Visit Mopar.com and register to take advantage of these and other exclusive features today.