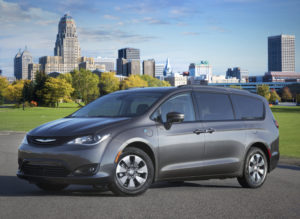 Inspired by community threads from Pacificaforums.com, the You Asked, We Answered video series from the Chrysler Brand provides straightforward answers to common questions often asked about the Chrysler Pacifica Hybrid.
Today's video answers the most elemental of all vehicle questions: Why should someone in the market for a new minivan consider purchasing the Chrysler Pacifica Hybrid in the first place?
Well, for starters (and from the video), "the Chrysler Pacifica Hybrid offers great fuel economy with 33 miles on pure electric charge1, 84 MPGe2 and a 566-mile total driving range1. With the available $7,500 federal tax credit3, plus applicable state and local incentives and access to HOV lanes in specific states, there's more than just one reason to consider the Pacifica Hybrid as your next minivan."
To begin exploring all the reasons one should consider purchasing the exciting new hybrid minivan from the Chrysler Brand, please watch the video below. Afterward, if you still have questions or, better yet, would like to schedule a test drive, please contact a BusinessLink dealership near you.
1EPA estimate with fully charged battery. Actual results may vary.
2Based on EPA-estimated miles per gallon of gasoline equivalent (MPGe). Actual results may vary.
3$7,500 Tax Credit is offered by a third party and is subject to change without notice. Please confirm this information to ensure its accuracy and availability. Consult a tax professional for details and eligibility requirements.