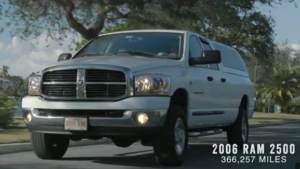 A telltale sign of a well-run business is low employee turnover. A telltale sign of a quality brand of work trucks is not just how often they need replacing, but how often they're replaced.
That one Florida-based retail-equipment supplier can, as he puts it, "get any kind of truck I want," yet chooses to stick with his 2006 Ram 2500 with over 366,000 miles on it, says just about everything you need to know about the capability, dependability and reliability of Ram Trucks. At 12 years and counting, that kind of loyalty speaks volumes.
While this story is a good one (video below), it's not exactly unique, not in the world of Ram Trucks. Check out more stories in our Extra Mile series – this one and this one, for starters – and then stop by a BusinessLink dealer near you to begin the process or racking up the miles on a Ram truck of your own.