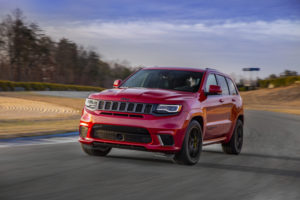 The following post originally appeared on The Jeep® Blog, the official blog of Jeep Brand vehicles. It appears here with the Jeep Brand's permission and, well, because there's no rule that says small-business owners can't also be diehard Jeep vehicle enthusiasts. Enjoy!
Jeep® SUVs are legendary for their ability to travel anywhere, and that includes into the not-so-distant future. Climb into the passenger seat, take hold of the grab handle, and come along for the ride as we take you on a tour of 2018 and three of the new, exciting rollouts the Jeep brand has in store for off-road enthusiasts and forward-looking drivers.
2018 Jeep Grand Cherokee Trackhawk
The future hasn't yet fulfilled its sci-fi promise of vehicles that fly, but the 2018 Jeep Grand Cherokee Trackhawk gets pretty darn close. The most powerful and quickest SUV ever1, the Grand Cherokee Trackhawk comes with a supercharged 6.2-liter V8 engine that delivers 707 horsepower and 645 pound-feet of torque. This speedster leaps from 0-60 miles per hour (mph) in 3.5 seconds, conquers the quarter mile in 11.6 seconds and achieves a top speed of 180 mph.2
The 2018 Jeep Grand Cherokee Trackhawk also boasts an upgraded TorqueFlite® eight-speed automatic transmission and driveline components engineered to handle additional torque output, plus added stopping power courtesy of a new Brembo® braking system that includes the largest-ever front brakes on a Jeep SUV, delivering 60-0 mph braking performance of 114 feet.2 Drivers will move forward quickly into a new generation of performance with world-class on-road driving dynamics thanks the Selec-Track® system with five dynamic drive modes and a Bilstein® adaptive suspension system.
2018 Jeep Cherokee Latitude with Amazon® Alexa
Ready to look ahead to the future? The 2018 Jeep Cherokee Latitude offers a groundbreaking technology package that includes new Uconnect® with Amazon® Alexa capability. The technology is designed to help eliminate everyday stresses by keeping drivers conveniently connected to their vehicle, for a completely unique and seamless experience. Drivers can now ask Alexa, through voice commands, to start the vehicle's engine, lock and unlock doors, send navigation instructions to the vehicle, plus check fuel and tire pressure levels – from the comfort their home.
Customers who purchase the 2018 Jeep Cherokee Latitude with the Tech Connect Package will receive an Amazon Echo Dot device, a three-month subscription to the Amazon Music Unlimited3 Family Plan – the on-demand full-catalog streaming service with access to tens of millions of songs, thousands of hand-curated playlists and personalized stations – and a three- month subscription to Audible4.
In addition, the new Tech Connect Package features exterior enhancements including Diamond Black Crystal-painted lower cladding; gloss black finishes on the chin applique, upper and lower grille surround, roof rails and badging; plus premium 18-inch painted aluminum wheels.
The All-New 2018 Jeep Wrangler
The next generation is now. Introducing the All-New 2018 Jeep Wrangler. The rumors are true — the most capable Wrangler ever delivers more 4×4 capability, advanced efficient powertrains, more safety features and advanced technology, all packaged in a modern design with even more open-air options that stay true to the original, iconic Wrangler design.
The All-New 2018 Wrangler stands out with its instantly recognizable grille, iconic round headlamps and square taillamps, improved aerodynamics, a convenient fold-down windshield for off-road purists, and dozens of different door, top and windshield combinations.
Introduce yourself to the All-New 2018 Jeep Wrangler — a new chapter in the history of the Jeep brand, written to inspire exploration and adventurous discovery.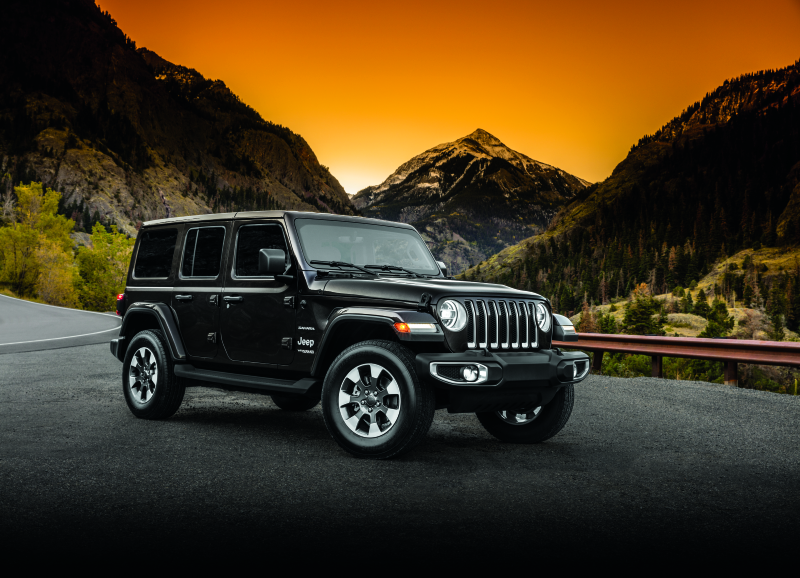 Big thanks to our colleagues on the Jeep team for allowing us to repost their content. Be sure to bookmark The Jeep Blog to keep up to speed on all the latest news coming from the Jeep Brand! 
1Based on 2016 Ward's SUV Segmentation excluding electric vehicles.
2Based on manufacturer's testing. Always drive carefully, consistent with conditions. Always wear your seat belt and obey posted speed limits.
3New Amazon Music Unlimited subscribers only. Terms and Conditions apply. Learn more: amazon.com/Cherokee. Offer expires 06/30/2018.
4New Audible subscribers only. Terms and conditions apply. Learn more: audible.com/Cherokee. Offer expires 06/30/2018.