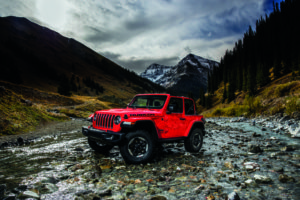 To mark the fact the legendary Jeep® Wrangler is All New in model-year 2018, we could share with you the many reasons Jeep Brand enthusiasts are running not walking to their local dealerships to see this vehicle in person – the new standard 33-inch BFGoodrich all-terrain tires on Rubicon models, for instance.
We could list out in great detail the myriad ways in which Jeep engineers and designers were able to improve upon the iconic vehicle while at the same time preserving the very things that made it iconic in the first place – its distinctive look and off-road prowess, for example.
We could substantiate our claim that the All-New 2018 Jeep Wrangler is the best Wrangler ever by providing all the necessary evidence, pointing out the fact, for starters, that engineers improved its 3.6L Pentastar® V6 engine (standard) to make it as powerful as in previous years but dramatically more efficient (17 city/25 highway mpg1 for two-door models).
We could do all that, and we most certainly will at some point. For now, enjoy this collection of videos that is somewhat short on words but does much to show the All-New 2018 Jeep Wrangler in all its off-road glory.
Traction | All-New 2018 Jeep Wrangler
Maneuverability | All-New 2018 Jeep Wrangler
Ground Clearance | All-New 2018 Jeep Wrangler
Articulation | All-New 2018 Jeep Wrangler
The All-New 2018 Jeep Wrangler is now available for purchase or lease. Contact a BusinessLink dealer near you for more information.
1Based on EPA estimated mpg with 3.6L engine and six-speed manual transmission. Actual mileage may vary.