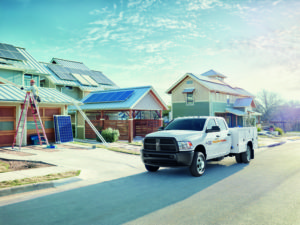 Is it any coincidence that the most successful small-business owners are often those surrounded by the most talented people? From a company's core players, such as employees and business partners, to those on the periphery, like CPAs and insurance agents, savvy entrepreneurs understand it takes a team of skilled professionals to really keep a business rolling.
FCA US LLC, the maker of Chrysler, Dodge, Jeep®, Ram and FIAT® Brand vehicles, understands that as well. We believe that having a qualified expert from the dealership help manage your vehicle needs – maintenance and repair work, new-vehicle acquisition, financing and so on – can be just as beneficial as the attorney who reviews contracts, the web developer who builds your website or the insurance agent who quotes policies.
Having a dedicated account manager – someone who fully understands the value of your time and, when vehicle maintenance is required, wants to get you back on the road as quickly as possible – is just one perk among many enjoyed by members of FCA's BusinessLink program. The program, a collection of exclusive benefits and services, is specifically designed to meet the needs of business owners and to help them form valuable, long-lasting relationships with particpating dealerships in their area.
Enrollment in the BusinessLink program is easy, membership is free and the list of benefits is extensive, including the following:
Next-Bay Service: The longer your vehicle is waiting to be serviced, the less time it's out earning its keep. With next-bay service, you're always first in line for maintenance and repair work.
Extended Service Hours: Because you put in long hours, we put in long hours. We start early and stay late to make sure your vehicle is ready when you need it.
Dedicated Account Manager: Build a strong relationship with a single point of contact at your BusinessLink Your account manager will work hard to understand your unique business needs.
Unrestricted Service: If you own a vehicle from one of our competitors, and it needs servicing – no judgment! – we are happy to do the work so you can get back out on the job.
Commercial Vehicles in Stock: When the time comes for a new vehicle, browse extensive inventories of ready-to-work vehicles right on the dealership lot.
Upfitter and Bailment Pools: Take advantage of our industry contacts and connections to find (with our help) an upfitter you can trust to customize your vehicle the way you like it.
Complimentary Loaner Vehicles: Owning a Chrysler, Dodge, Jeep, Ram or FIAT Brand vehicle AND belonging to the BusinessLink program entitles you to complimentary loaner vehicles when necessary.
Free Shuttle Service: Need a ride back to the office or jobsite? For BusinessLink members, the ride is always free.
Enroll in BusinessLink online, by calling 877-2THELINK (877-284-3546) or by visiting a BusinessLink dealership near you.