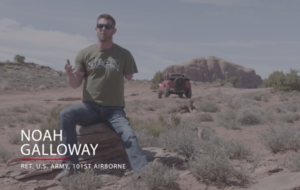 At the core of the FCA Driveability program is this simple idea – a disability should not keep anyone from doing anything they want or going anywhere they please. We took that idea to a whole new level by inviting injured Army veteran Noah Galloway to Moab, Utah, to test his skills on world-famous off-road trails in a new Jeep® Wrangler.
You might recognize Noah from Dancing with the Stars and/or the cover of Men's Health. But watch the video below and you'll get to know him as we do, as an adventure-loving off-roader who is as much at home on the rugged trails of Moab as anyone could be.
It all just goes to show what a difference the right vehicle can make, especially when combined with a do-anything attitude like Noah's. In his own words: "What I love about being here [in Moab] is the fact that there are all these other vehicles taking all these challenging courses and I'm no different than anyone else. I'm missing an arm and a leg, but I'm going up the same trails."
That's the thing about the FCA Driveability program – whether it's on the rocky inclines of Moab or the quiet, tree-lined streets of your hometown, access and mobility is what this program is all about.
Remember – the FCA US Driveability program provides customizable adaptive equipment to help make life easier for people with disabilities. Visit the program website to learn more about the available $1,000 reimbursement on the purchase of qualifying equipment.