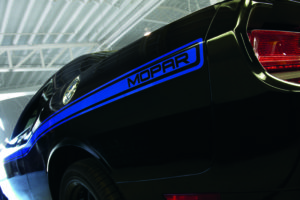 With a history of providing quality auto parts that dates back over 75 years and a parts catalog that today contains more than 500,000 products, the Mopar® Brand is well deserving of its reputation as one of the top auto parts suppliers.
But entrepreneurs take note: auto parts are not this brand's only business. Thanks to an unparalleled commitment to customer service, the Mopar Brand has become a valuable partner to small businesses by offering the kind of after-sale support that can help business owners get ahead.
Here are the advantages that come from choosing the Mopar Brand and its service centers – many of which double as BusinessLink dealerships – as the solution for all your parts and maintenance needs.
The Right People
The constantly evolving technology in today's vehicles means not just any mechanic can do the job the way it should be done. For proper maintenance and repair work on your FCA US work vehicle, it's best to turn to the highly trained Mopar service technicians employed at each Chrysler, Dodge, Jeep®, Ram and FIAT® dealership.
To supplement hands-on experience, all technicians complete exhaustive training programs, ensuring that their knowledge keeps pace with new vehicle technology as it evolves. For business owners, that means vehicles are serviced correctly the first time around, saving you time and money in the long run.
The Right Parts
All parts and accessories available through the Mopar Brand are specifically engineered for and tested on FCA US vehicles, making them the best option for repair or customization. Throw in a competitive warranty and you have all the makings for a great maintenance experience.
The Right Services
Part of the Mopar mission is to dazzle you with service so that when the time comes for a new vehicle, you remain an FCA customer. From basic maintenance to roadside and collision assistance, the goal is not just to provide the services you need, but to do so quickly and efficiently, so you're out of the shop and back on the road making money before you know it.
The Right Incentives
Running a successful business is about managing the bottom line. To help offset the cost of vehicle maintenance, and to help keep you loyal to FCA, the Mopar Brand offers coupons, rebates and other deals throughout the year. Combine available discounts with the perks of a BusinessLink membership and the savings for small-business owners begin to quickly add up.
The Right Conclusion
For more than seven decades, the Mopar Brand has evolved to meet the needs of drivers. What began in 1937 with exactly one product (antifreeze) is today a comprehensive catalog of parts and services that address all facets of the vehicle owner's experience, from routine maintenance and upkeep to customization on a commercial scale. To consider it a complement to your current FCA US work vehicle is to come to this conclusion: The Mopar Brand is a powerful resource for small-business owners like you.