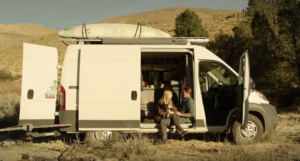 Living in a van hasn't always been a housing solution to which people have aspired. That's changed in recent years due in part to a generation of would-be homeowners who want more freedom in their lives and prefer experience to possessions. We would argue it's also thanks to the availability of affordable, highly versatile and easily customizable vehicles like the Ram ProMaster® cargo van.
Interestingly, the home/vehicle owners appearing in the video below chose the Ram ProMaster for many of the same reasons business owners and trade professionals do. Come to find out things like class-exclusive front-wheel drive1, best-in-class turning diameter1, a spacious interior and other features are as advantageous to living in vans as they are to working out of them.
And lest anyone think that "Van Life" is only fun and games, we ask you keep the following in mind – two of the three Ram ProMaster cargo vans featured here help give new meaning to the term "working remotely." Give the video a watch to see what we mean.
Stop by your local BusinessLink dealership to learn more about the versatility of the Ram ProMaster, a cargo van easily customized to meet your small-business needs.
1Based on the Large Commercial Van Segment (Class 2).